14 Proven Ways to Increase Blog Traffic Fast for Free
How to increase blog traffic is one of the most popular topics in our blogosphere today. Since more and more blogs are being created every day, it makes sense that people want to learn how to drive more traffic to their blogs.
Most bloggers spend a great deal of time and energy trying to figure out how to drive traffic to their blog. But before we jump straight into "how", let's talk about why driving traffic to your blog is important in the first place.
To be straight, traffic creates more clicks, more sales, and most important of all – more customers.
You're reading this because you've probably been frustrated by your blog's lack of growth. Maybe you just want more people to visit your site and read what you have to say! And if that's the case, don't worry – we felt the same way! In this article, I share simple ways to grow your traffic with realistic techniques.
14 Ways to Drive Traffic to Your Blog
1. Discover Interests of Readers
This is one of the most important tips to increase blog traffic. Write valuable content people want to read. What does that mean? It means write posts that are useful, easy to read, and shareable. What this won't mean: personal details of your dog (or children) or whining about a breakup.
The readers want to know what you have to say. Write blog posts that are focused on the end-user. Help solve a problem for people and demonstrate answers that searchers will find valuable. The more readers value your content, the more likely they'll share it with their friends. This is ultimately where all blog traffic comes from.
Landing a higher ranking in search results will help improve blog traffic, but it isn't the only way. It is unlikely you'll rank high just by having a good summary and keywords. When you make people want to visit your site again with quality posts, it holds the likelihood of generating traffic.
2. Try to be The Expert
In the world of search engine optimization, a lot may be happening with your competition. That could mean new posts, new files, new links. The list goes on and on. If you do not stay up to date with your competitors, how could your blog traffic possibly grow? You need to know what is going on with your competitors to beat them.
Capturing a reading audience is easier than ever in today's blogosphere. The literary landscape is awash with readers, writers, publishers, and pundits clamoring to be heard. How does one elevate above the fray and get noticed? Start by being the expert on your topic.
To become the expert, you must first learn about your topic. One of the best ways to learn is to teach. You can start a blog educating others on the topic you choose. By carefully researching and staying current on the topic of your blog, readers will come to you first.
3. Do Proper Keyword Research
If you want your blog to get more traffic, then you should definitely look into keyword research. While this is something that may be daunting for some people, it isn't difficult if you are provided with the right information.
Good keyword research is a crucial part of SEO. It's the cornerstone for your content strategy and informs much of your marketing strategy, including sending you the right traffic and leads as well as providing valuable insights into the minds of your target audience.
If you are a newbie, go for a long-tail keyword strategy. Do proper keyword research using a tool like SEMRush and make a list of low competition, high volume keywords. You can have those by spying on your competitors using SEMRush's Domain Analysis Tool.
You can learn more about Keyword Research and Content Marketing at SEMRush Academy. And that's for FREE.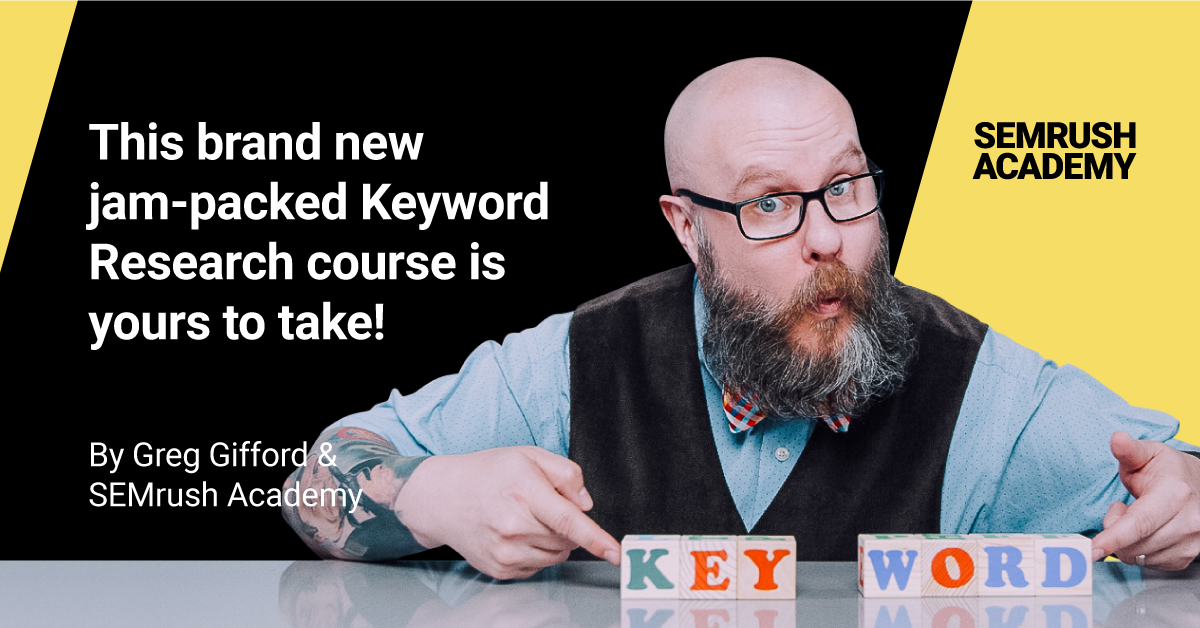 However, always keep in mind that keyword stuffing is no longer beneficial for SEO. You need to research the subject matter and understand what exactly people are searching for and what is related to their search query. You have to put it into action by providing a valuable opinion to their questions.
4. Do Not Advertise Yourself
To help your blog get more traffic, you are going to have to make it interesting and relevant in the eyes of a potential reader. You have to share information from an expert's point of view instead of simply being an advertisement for your product or service.
Articles that are written with a sales pitch and an obvious intent to get the reader to take action will not increase blog traffic. They won't help you build relationships or a following, either. Readers hate being manipulated and only want to be entertained. This means there is no place for blunt self-promotion in your articles.
The quality of your writing, the tone you take towards your readers, and the usefulness of the information you provide are all important variables when it comes to enhancing your blog's authority. These factors also play a large role in determining whether or not people will want to read what you have to say.
In this way, you will pique the interest of visitors and build trust and likability. Increase SEO website traffic by building the right kind of relationship with your readership.
5. Create a Buzz to Drive Traffic
Creating drama, controversy, and buzz can be a great way to draw your visitor's attention to your blog. Bloggers have been doing this for years to increase blog traffic.
When you create drama, controversy, and BUZZ people will talk. They will share your posts on social networks, discuss them with friends, argue about them on their blogs, and some will even try to out-do your content with their own.
You will never get blog traffic from being boring. After all, the internet is a community that loves drama — it's how reality TV shows work. To drive traffic to your blog, you need people talking about it. To make that happen, you have to become a storyteller. A good story will start a conversation and get people to link back to your site.
6. Concentrate on Email Subscription
There are several ways to get your fresh content noticed. One way is through e-mail. If you have not incorporated the use of an e-mail list, now is the time to start. It is a great way to expand your reach, grow your community and stay in contact with your readers.
The key to a successful blog is not just having a good amount of traffic, but also being able to have a list of ready and waiting subscribers.
The easiest way to get people to subscribe to your blog is by making it easy for them. Include a Subscribe box at the end of every blog post (this is a must). Add a text link inviting readers to subscribe at the bottom of your home page. If they have subscribed, encourage them to forward your posts to friends. Be sure that you provide an email box on your Contact Us page and a short message inviting people to sign up for your e-mail list.
Convertkit, Mailchimp are some of the best email services you can choose for this purpose.
7. Increase Domain Authority
One of the best ways to increase blog traffic is to increase the domain authority.
The domain authority is a major factor in deciding the blog traffic. This is one of the few facts which are proven and testable. The term domain authority was used first by Moz a few years ago. A majority of the search experts believe that it has everything to do with the SEO of your site.
Before we try to understand the idea better, let me explain what is meant by Domain Authority.
Domain Authority score is made from 0 to 100 with the latter being the best. The Domain Authority of a website can speak about the trust that people have in it. In other words, it's an indicator of how well the website can rank on search engines like Google and Bing.
But, the real question is, how can we increase domain authority?
Domain Authority is calculated base on several factors including, Backlink's Quality, Quality of Content, Social Signals, and Implementation of SEO Standards.
The best way to get Quality Backlinks is Guest Posting. Get a bunch of do-follow backlinks from sites having higher Domain Authority (It's a good idea to start from DA 40) within your niche, and you are done. It will significantly raise your domain authority and more authority means more chances of getting some quality backlinks in the future.
Along with link building, share your content regularly on social media platforms, learn more about SEO and implement it on your blog, and optimize your content quality to raise your domain authority further.
Higher your domain authority, higher your position on SERP and, thus, increase in your blog traffic.
8. Link Back to your Blog
Is your website getting the traffic it deserves? If you aren't getting the results you expect from your blog, that may be because of one simple problem: a lack of awareness. Visitors won't see your content if they don't know where to find it. Make sure the link to your blog is on every piece of written communication you send. Include the link in your newsletters, brochures, business cards, in your e-mail signature, etc.
This is a great way to get people interested in your work. Giving away something for free is a great marketing strategy!
9. Do Guest Blogging to Drive Traffic
Guest blogging involves helping someone else with a blog by writing posts for them. On the upside, it can bring you traffic and priceless backlinks that will increase your search engine rankings as well as help you build your reputation as an expert in your niche.
By writing high-quality guest posts, you have a chance to rank higher in search results when people search for certain keywords related to your industry. However, not all guest blog posts will perform well; you need to publish on the right blogs and submit your article to the right kind of content curation sites. You should also focus on producing content that is unique and has the potential to rank well.
Guest blogging involves reaching out to bloggers, influencers, and website owners and convincing them to publish your content on their website. This involves a lot of convincing, negotiating, and in some cases, begging.
Guest Blogging not only increases your referral traffic but also increases your domain authority. And with higher domain authority you are going to rank higher for your targetted keywords within your blog.
10. Do Blog Commenting
Are you one of those bloggers who feel that commenting on blogs does nothing for traffic? Do you dread the never-ending maze of blog hopping? You're not alone. Blogging alone will not help you to increase your blog traffic.
Every time you leave a comment on someone else's blog, you are marketing your own blog and trying to get backlinks into the process. What you're doing is engaging in an activity that Google really loves. This is how Google ranks people higher in the SERPs. And when you're doing something Google likes, then you're probably going to see more visitors on your website.
Blog commenting isn't a dirty dark trick. It's a way for you to build relationships with other bloggers and also drive traffic to your blog. If you're interested in developing relationships with other bloggers, leave a comment on the post and start conversations with other readers. If you're looking at driving more traffic to your blog, then write a high-quality comment that will encourage the blogger to mention your site in a future post. That can help you get additional traffic from their audience.
11. Promote Contents on Social Media
Social media sites have the highest number of users as compared to any other database in the world. When you use social media to promote content relating to your blog, you certainly will get a lot of people attracted for sure.
Social media sites are mostly used by teenagers and youngsters but some older people also use them quite often as well. Thus, you may get an extensive database using social media sites which will be great when it comes to increasing traffic on your blog.
When it comes to social media, Facebook is by far the most popular and widely used platform. If you want to get more Facebook shares, likes, or comments for your blog posts, try adding rich media content. In the last few years, it's become clear that images, videos, and infographics get the most engagement on social media.
Your Twitter experience won't be complete without a few well-placed hashtags. That's right — by adding a hashtag or two to your tweets, you could increase your blog traffic and promote your products and services. Hashtags are used to categorize specific topics (think of them like subheadings) in the 140-character domain. Creating unique hashtags for each of your blog posts will make them searchable so potential customers can easily find them, read them, and — hopefully — retweet them.
If you want to increase your conversion rate and blog traffic from LinkedIn, it's important to share your blog posts in the right way so that people will take action. On LinkedIn, there's one way to share your blog post that's worth prioritizing over everything else: share the post with an image and a link. This will help increase traffic to your blog and your own personal brand.
Pinterest is one of the hottest social networks. If you create visually appealing Pinterest boards, the visitors of your Pinterest profile will find it useful and follow you.
12. Internal Linking
Internal linking is the hyperlink that connects one web page to another page on the same website. Internal links are links that lead from a target page to any other page of the same website or blog. Imagine your blog site or blog post as a tree. Internal links are the branches of this 'tree' that connect its various pages.
Internal linking can be done in both the body and the header of your post. This is nice because it keeps users interacting with your site which means they won't leave as quickly. The bounce rate of your page will lower and thus the time on page, which increases your overall blog traffic.
Internal linking is an important topic for SEO. Google wants to know what your most important pages are and how they are related. Internal linking helps them figure out which pages on your site are the most important by telling them which pages other pages link to. This way, Google can quickly understand the topic of a page without having to read all of its content.
Consequently, internal links carry as much or more weight than external links and influence where Google ranks the page in the SERPs.
13. Write Compelling Headlines
The headline of a blog post attracts readers. To get more traffic on your blog and to rank higher on search engines, it's essential to have the right headline for your posts. Your product or service keywords must be injected strategically within the title so they can appear on the first page of Google results. This will ensure that more users will see your content and click through to your site.
One of the hardest parts of copywriting is coming up with a compelling headline that rouses interest and captures attention. But what if you could brainstorm for headlines instead? The best way to do this is by writing a bunch of different titles and seeing which ones resonate with you.
In the more than seven years I've been blogging, I've learned a thing or two about writing effective headlines. Not all blog posts have to have catchy, creative headlines–some are better off with simple, straightforward ones.
What I do with my strategy and it's something you can also do for sure. Before you begin, make sure you actually spend some time looking at your competitors – don't just open their page and then move on to the next one. What I want you to do is go through some of the top blogs in your niche/industry and take notes – really absorb what they're doing.
14. Blog Consistently
Blog often. It's important to have quantity as well as quality. Your readers will anticipate new content from you daily or weekly, so make it a point to blog often. People know that they can count on you for insightful content and are more likely to subscribe if you show that you won't disappoint. Set up a schedule for your posts and stick to it.
Blogging is like any other skill. The more you do it, the better you'll become at it. Don't worry about it being perfect the first time or even the second and third time. Just write something that feels good to you and go from there.
Consistency is key here. Blogging is about building and nurturing relationships with your audience and your content reflects the nature of those relationships. Once you get to a point where readers are coming to your webpage regularly because they like what they see, you'll know that you've found a blogging routine that works for you.
Your consistency will get rewarded with a guaranteed increase in blog traffic.
---
For new blog owners, drive more traffic to your site may be the biggest concern. You can write brilliant posts but if your audience size is very small then it won't be worth anything for you.
It is common knowledge that if you want to make money with a blog, the first thing you have to do is earn traffic. It's not enough just to write good articles. When creating content, you should take into account how to attract users' attention and get them interested in your material.
Those are some proven methods to increase blog traffic. I'm sure it will boost your blog and help you out to get more attention on the web.